A neatly organised desk reflects the personality of an employee. Maintaining a workspace that is not cluttered helps you keep your work organised and complete your assignments as per the schedule.
An organised workspace in an office helps employees to be productive and meet targets on time. A cluttered workspace gives a shabby look to the office. You will create a mess when you search for some important documents kept in your place.
Simple pegboard walls near the work desk will help to organise your office-related documents and other materials neatly in one place. Or you can hang a shelf over your desk to keep your books, pens, and pencils.
Here are some simple tricks to maximise desk space in the office. By properly using the available space, you can create a new space where you need it most.
Discard items not needed
Clean from your desk all items that are not relevant to work. Empty boxes, old pens and pencils, outdated documents, empty envelopes, and draft documents. Take care to have a wastebasket under your work desk to throw away the trash that accumulates daily.
Decide items needed
Next, sort items based on the daily needs and arrange them properly inside drawers so that you can reach them easily. Keep non-essential items under lock and key.
You can pick them up whenever you need them. With the maximum space on the desk, you will work efficiently with more focus. Replace an oversized, outdated desk lamp with a modern, sleek desk lamp.
Room to work
Leave adequate space in the centre of the desk for your computer and important documents. Allocate space at the right side of the desk for your paperwork. Have sufficient space for your hands to move freely so that you will not find much strain on your hands.
Using desk drawers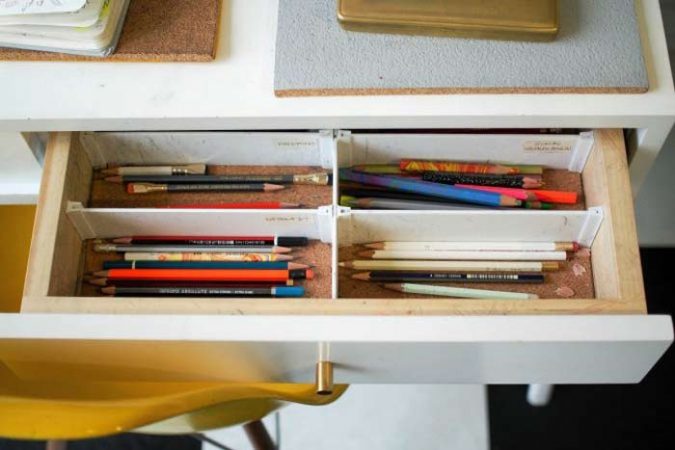 Arrange the top drawers with pens, pencils, envelopes, forms, and files that you may need immediately. Keep your reference materials, backup supplies, and documents that you need once in a while in the bottom drawer. The middle drawer can be used to stock ink pens, staplers, printer cartridge refills, paper, and ball pins.
Desk drawers must also be free of clutter. Take care to clear them every couple of weeks and remove items that are not in use. A dedicated drawer organiser will help to sort and store items in the right place. Label every compartment in the drawer so that it will be easy to pick items whenever needed.
Dedicate space for electronics
At present, laptops, smartphones, and tablets play a major role in everyone's professional life. Allocate space on the desk corner or in the drawer to keep your smartphone or tablet handy. Take care to fix a charging station near the desk so that you can plug in your laptop or smartphone easily.
Space for bags and backpacks
Leaving your laptop bag or the handbag on the work desk may clutter the workspace. Keeping them beside or under your work desk may also disturb you while at work. Take care to keep them safely in lockers provided by your office. Keep your belongings under lock and key in the allocated space for safekeeping.
Using paper trays
If your work involves handling papers, use paper trays to sort and assemble them neatly on your desk space. Paper trays have multiple compartments marked for current work, in-progress documents, and the other for outgoing documents. It will help you handle paperwork without making a mess on the desk and let you work organised with ease. You can keep documented papers tucked in file folders, and kept safely in labelled boxes in the storage. Small, accordion folders can store receipts and others.
Using bulletin boards
You can use simple, cork bulletin boards to pin important notices and stick reminders to complete urgent jobs. A cubicle divider at the side of your desk can be used to fix your bulletin boards. Bulletin boards save space effectively and allow you to work freely with no clutter on the desk.
Managing cables
As using laptops and smartphones in the office has become common now, separate plug points to charge them are necessary. Managing cable connections on the work desk without occupying much space is a must. They can be fixed at the back of the desk or below the desk within cable management sleeves to be safe and secure.
Monitor arm for your computer
A monitor arm saves a lot of space on the desk. It can be clipped it onto the side or back of the table and move it according to your convenience. You can raise the monitor to a suitable height that provides a comfortable posture.
You can adjust the depth, height, and angle of the monitor arm to find the correct position that suits your work and saves you from stress and strain.