Did you know that the distance education market (EAD) is growing rapidly? Whether for large educational institutions or the small video lessons producer, it is increasingly profitable to launch into this market and invest in online classes. And if you want to know how to record successful video lessons to get your idea off the ground finally, we will teach you everything about producing this type of content.
And have you ever wondered why the online classroom market is so successful today? To understand this movement, just think about some characteristics of the internet itself and how they affect people's behavior. When they want to learn something, many people see the internet as the main source of information, which ends up facilitating the dissemination of content in the online environment. In addition, the internet breaks down geographical barriers, making it possible for people from all over the world to watch and share content and learning.
For students, in addition to being much more economical, distance-learning brings much more convenience too. After all, it is possible to take an entire course without leaving home, especially during COVID-19. And of course, as it is totally connected to technology, EAD also invests in innovation! Several new strategies, such as using digital games, are already part of a virtual classroom's daily life. For the teacher, the advantages are also numerous. Nowadays, activities such as recording video lessons from home are already common practices. After all, many accessible pieces of equipment facilitate recording with the highest quality, which makes setting up an online course not requiring a large initial investment and being highly profitable.
So, if you have already thought about setting up your own online course or if you are already a manager and want to put your course online, we will teach you everything you need to know about how to record successful video lessons online. Come on?
RecordCast: a free tool to record successful video lessons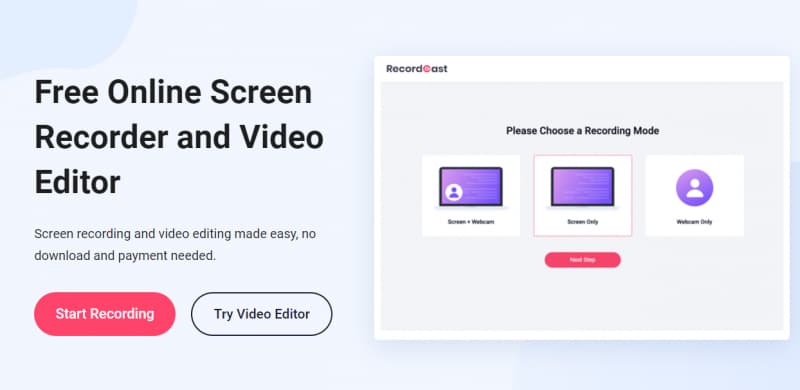 RecordCast gives you the ability to record your screen without downloading the software. Currently, we realize that social networks have greatly improved the way we communicate with others. We can not only send texts or written messages, but we can also send audio telling things out loud or screen recordings to our mobile phones to explain how a specific app works.
This tech idea is also spreading in the business world to make life easier for its workers. RecordCast is a great example that we will provide you with in this article.
Course recording steps in RecordCast
It works fast. Every one can control it quickly for screen recording or video editing. Let's how?
Step 1. Open the website
Go to the RecordCast website, and you will see "Sign Up – Free" on the top right. It's optional. To start recording your screen, you don't need to perform installations or recording operations. Once open the website, you will have the opportunity to start screen recording on the home page.
Step 2. Adjust settings
RecordCast works fast, so a popup window appears where you can select whether you want to record a screen, webcam, or webcam + screen.
Then choose how do you want to add audios to your video lessons. You are able to add explainer audios from your Microphone with your system audios at the same time or separately. Or you can even use no audio and edit it with background sounds later.
After choosing the audio setting in the new window that opens, you will need to select exactly what you want to record:
Full Screen.
A window for any of the programs running on your computer.
The content of any tab in the browser(Chrome or any browser you are using).
After recording, the video can be downloaded to a computer, or the video project can be saved directly to the RecordCast application (we can save up to 8 recordings).
Step 3. Edit your video lesson
It is not a must to edit your video lessons if you keep them short and clean. Many people can do it all the way through with no problem.
In case you need to make some little changes and cut out any parts of your video lessons, you don't need to use another tool outside of RecordCast. With its built-in free video editing program, you will get the job done well.
You will be allowed to add more video clips, cut the unwanted part, add text caption, elements, overlays, outro and intro effects to your video. You can also continue recording yourself in the video. It offers you the ability to make a video up to 1 hour long. You can do more than you think.
Examples of using RecordCast
Students' posts in campus forums
When students raise doubts or questions in campus forums or send their questions directly to faculty via internal messaging, they don't always understand the answers typically written correctly in dense text. Thus, RecordCast can be helpful for these explanations by recording simple how-to videos that focus on answering questions.
People on the team with multimedia materials
Multimedia materials are more practical than texts, more user-friendly, and help to better understand how exactly to do the task and the key elements to bear in mind.
Generate knowledge internally
For all businesses, having the organization's own documents and processes is essential. Aside from typical written PDFs, starting to create such multimedia content quickly and visually will greatly improve obtaining the knowledge from workers who should review it later.
Asynchronous messages that show "tone" and avoid misinterpretation
Have you ever left a bad taste in your mouth because messages you've received or sent in writing seem serious and broken? Obviously, the text does not express the same thing as the phrase aloud. Hence, to avoid misunderstanding, RecordCast can also help make communication via video clips and audio messages more enjoyable.
In conclusion
Checking throughout this article, RecordCast is a very effective tool that focuses on different areas: either for creating multimedia content or as a means of communication between two or more people. RecordCast helps you better organize and communicate within your business environment and record successful video lessons online for free. Why not have a try?