The question is – how do you choose THE RIGHT Office Chair from an ocean of choices that the market offers? Have you ever thought, what aspects declare an office chair as the RIGHT ONE? What makes a chair different from the other?
If you are an in-office working professional or contributing to your company's growth from home, an Officeworks ergonomic chair is what you need. Let's agree to the fact that the type of seatings greatly determines the quality of work & your overall efficiency. While the right & comfortable seating increases your focus, the poorly-structured chair can leave you distracted & exhausted.
This post addresses these questions & provides you a list of the top under $300 Officeworks Ergonomic Chairs to choose from. Read on to find.
The Need for Officeworks Ergonomic Chairs
Chairs are much more than just seating arrangements. They serve as an employee's habitat for working hours, which can let him focus on work or leave him distracted. An ergonomic chair supports the body, but the wrong chair develops backache, neck & shoulder stiffness over time.
Moreover, a wrong chair can lead to bad sitting posture & compound cardiovascular issues, carpal tunnel syndrome, tendinitis, & other musculoskeletal disorders. Therefore, it is crucial to opt for the office chairs that support your natural body's shape & keep you comfortable as you sit & hunch over laptops all through the day at work.
What Makes an Officeworks Ergonomic Chair different?
Officeworks Ergonomic Chairs have become an integral part of modern offices for various reasons. Besides conforming to the employee's natural body shape, these chairs render various health benefits.
Adjustable Seat Height
Padded Seat & Back Support
Adjustable Backrest
Lumbar Support for Spine
Adjustable Armrests
Adjustable seat width & depth
Easy Swiveling
Chair Wheels that ease movement
Comfortable Chair material
The five-point base for stability
Intriguing Features of Ergonomic Chairs
Ergonomic Chairs, just as the name suggests, have ergonomics or physiological methods applied to their design to make them suitable for human beings' use. They possess design factors that minimize discomfort & enhance user's productivity, such as:
Enthralling Benefits of Ergonomic Chairs
Officeworks Ergonomic chairs are preferred over regular chairs because of many benefits it renders. Let us sneak a peek at some enthralling advantages of ergonomic chairs at work:
Top-notch Officeworks Ergonomic Chairs under $300
After thorough research, we have hand-picked the best 8 Office Ergonomic Chairs that marveled us with their ergonomic features, functionality & durability. Let us have a look at some key highlights of our top 8 picks:
Completely adapts to the user's needs, rendering comfort
Relieves postural issues developed by using ordinary chairs
Promises relaxation & fixes right posture by properly aligning the body.
Reclines at an angle greater than 90-degree & reduces backache
Increases user's work productivity, letting him focus on work
Promotes a delightful work environment in offices
Enhances proper blood circulation, reducing cardio-vascular issues
1). Executive High Back Chair with Fabric Inlay
This uniquely-designed executive chair with raised back is at the top of our list of under $300. It is crafted to meet user's requirements who sit & work for a longer duration.
Price: $266.00
Material: Fabric
Features:
Upholstered Arms
Chrome base
Highly durable
Multiple Recline Positions
Tilt lock-based
2 Levers
5 Years Warranty
This stylish Officeworks ergonomic chair features mesh back & adjustments that allow movement & render comfort.
Price: $234.00
Material: Mesh
Features:
Firm Comfortable Seat
Breathable Mesh
Adjustable Armrests
Simple Synchron Mechanism with Tension Control
Certified by Green Guard Gold
2 Levers
10 Years Warranty
3). Racing Style PU Leather Office Desk Chair:
This sporty racing style office chair provides the utmost comfort & enhances your workplace's appearance. Available at an affordable price, it is suitable for use in both homes & offices. It is made of PU leather, which makes the chair durable, easy to clean & maintain.
Price: $172.00
Material: PU Leather & Mesh
Features:
Breathable Mesh Back
Head Pillow Available
Elegant Cushioned armrests
In-built Lumbar Support
360-degree swivel seat
Adjustable Seat Height with Gaslift
Chrome base with Castor Wheels
4). Artiss Sherman Executive Wooden Office Chair:
This executive wood-based office chair has the power to transform your workplace completely. The extravagant cowhide seat allows you to relax, reason, plan & encourage others.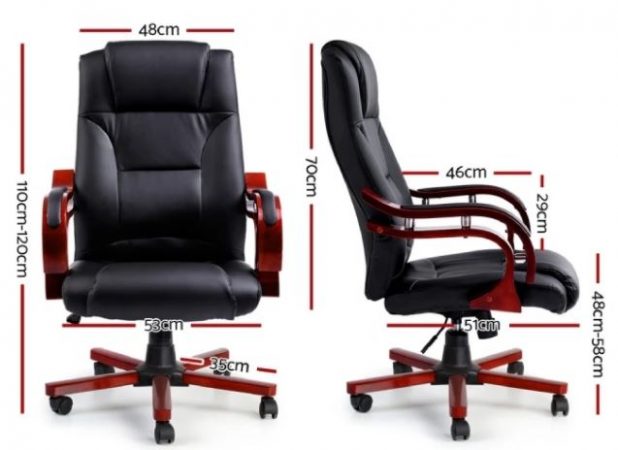 Price: $188.00
Material: Redwood & PU Leather
Features:
Stunning Redwood-based timeless design
Voguish & quality black leather seat & back
S-shaped high back
Cushioned Back & Seat
360-degree rotatable seat
Elegant wooden armrests
Wooden base with castor wheels
Durable & easy to assemble
Adjustable Height
5). Artiss Retro Lounge Chair with Velvet Shell Backseat
This classic office lounge chair adds a touch of elegance to your reception area & living room. It is a velvet-based lounge chair that features the finest-quality cloth texture, wide back & comfortable full-sized seat.
Price: $250.00
Material: Velvet Fabric, Wooden Frame & Metal-based legs
Features:
Elegant Shell Back Design
Durable & Sturdy Wooden Frame
Metal legs with cushions feet that protect scratches on the floor
Alluring Velvet Upholstery
Thick Padded Seat
Smooth Round Corners
Easy to Assemble
6). Green & Black Artiss Gaming Office Chair:
This gaming-office seat is suitable for hammerheads & brainy working leaders who love to dwell in the utmost comfort. The cowhide seat & various ergonomic adjustments made it land in our list of top 8 office chairs.
Price: $221.00
Material: PU Leather
Features:
High Back Body Wrap Seat
Lavishly cushioned seat
Adjustable Seat Height
Adjustable Lumbar Cushion
Head Cushion
360-degree Rotatable Seat
Foam-padded armrests
Recline Adjustments – 90-degree to 160-degree
7). Artiss Office Chair with Flip-up Armrests
This Officeworks ergonomic chair ranks amongst the comfortable & affordable chairs that have gained prominence in modern offices today. It has been crafted keeping in mind the long working durations & movements required at the workplace.
8). Fabric Office Desk Chair- Grey Color:
This beautiful Officeworks chair surpasses others in style & comfort. Its cushioned armrests & seats render you the space you need as you sit & focus on your work. It is suitable for use in homes, offices & conference rooms.
Price: $188.00
Material: Fabric
Features:
Trump Style Chair
Adjustable Seat Height
Breathable plushy fabric
360-degree Swivel Seat
Thick padded seating
Curved Padded Armrests
Polished Chrome Base with Wheels
All the Officeworks ergonomic chairs listed above ultimately feature ergonomic features such as height adjustments, cushioned seats, back & armrests, lumbar support, & durability. Investing in these chairs can significantly add comfort to your day-to-day operations & reduce the risk of health injuries caused by ordinary chairs.
Find a suitable ergonomic chair that meets your requirements & complements your workspace at ergonomic chair Officeworks online.