Manali, the first choice of Indians during summer. Looking for inner peace, some relaxation, and thrilling activities, Manali has everything covered. Settled beside the banks of river Beas, this region is a blend of multiple unique cultures and natural and adventurous masterpieces. Manali is located in Himachal Pradesh and houses some of the beautiful Solang Valley, and many more tourist attractions.
Many of them, such as Manu Temple and Mall Road, have grown in popularity among many families and children looking for an interesting vacation. Yes, these are the Manali attractions that attract the most visitors. However, that doesn't mean you should skip out on seeing the more laid-back places like Kasol and Kullu. These locations provide the most alluring views of majestic mountains, and perhaps even a small taste of hippy culture!
So treat yourself anyhow you choose; the fascinating spots to explore in Manali will undoubtedly leave you perplexed. Let me take you to some of the must visit places in Manali for a unique experience and unforgettable memory.
Hidimba Devi Temple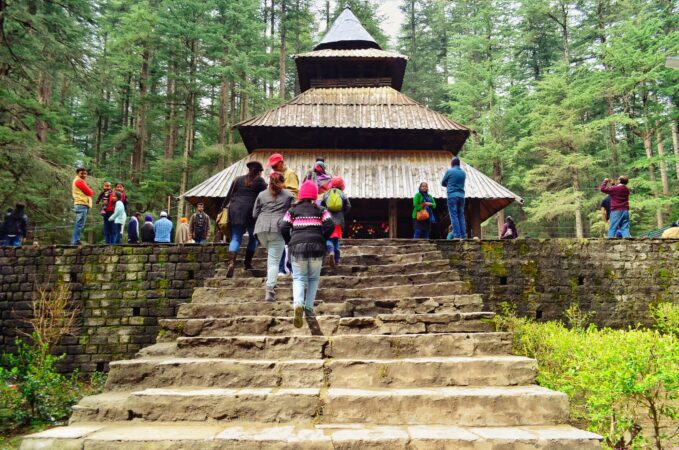 Let's begin our trip with some spirituality and some blessings from goddess Hidimba Devi. In the 15th century, they built the Hidimba Devi temple, dedicating it to the goddess Hidimba, the wife of Bheem. It has since become one of the most visited pilgrimage sites and famous tourist attractions in Manali.
The pagoda-style architecture is built on a massive rock and the temple is surrounded by lush green forest. This provides a beautiful background of snow-covered mountains giving a completely divine feeling. It is located at Old Manali and the visiting charges are completely free and open to all. Don't miss out on the blessing of the Goddess before starting your Hamanchal trip.
Manali Sanctuary
Your trip to Manali is useless until you visit the Sanctuary and enjoy and encounter the mountain habitat. You'll experience some of the rare and unique biodiversity. Manali Sanctuary is the most important wildlife protection in India. It houses some of the best natural habitats under the northwest Himalayan biogeographic zone.
You can encounter the best of the birds and animals like the Kashmir flying squirrel, Himalayan black bear, snow pigeon, flying fox, Baking Deer, Chakor, treecreepers, etc. This sanctuary in Manali, India offers a breathtaking backdrop of snow-covered mountains. Along with this, the dense forests with willow, horse chestnut, deodars, and beautiful red rhododendrons. The entry fee is 10 rupees per person and is located at Circuit House Marg, among the Best places to visit in India .
Mall Road
A bustling market area with mouthwatering street foods, and beautiful shops with some of the finest handcrafted locally manufactured items like frames, carpets, clothes and furniture, and some of the best souvenirs. This place is surrounded by hundreds of shops and cafes, ranging from local cafes to the finest German and French cafes.
Though crowded the Mall Road has multiple benches where you can sit and relax enjoying the cool breeze and vibrant and bustling market under the twinkling lights. For some tacky clothing and jewelry, don't miss the Hong Kong Market, Dragon Shopping Complex, and Snow Lion Underground Market. You will be fascinated by Manali's magical tourist attractions.
Old Manali
Old Manali is a beautiful and stunning district popular for its traditional environment. Surrounded by mountains full of trees and apple orchards, the elegant small town is one of the top attractions for honeymoon packages in Manali providing a romantic vibe in the air. The Mall Road runs through the town's vibrant center and features unassuming shops selling handmade goods and charming little cafes that offer delicious cuisine.
The top attraction in Old Manali is a 16th-century cave temple nestled within the cedar forest. It's also a hotspot for adventure seekers, offering activities like zip rappelling on the Beas River and mountain biking along the curvy slopes of Old Manali.
Van Vihar National Park
"Manali, a hilly region with extensive wildlife, houses Van Vihar National Park. It is a crucial wildlife conservation project within the northwest Himalayan biogeographic zone." This park, one of the best of the Must Visit Places in Manali. It offers a lovely relaxation from the hectic streets.
The hundreds of tall deodar and pine trees that envelop the area in chilly darkness even during the afternoon. Long nature hikes are enjoyable, and you can see many plant species as well as wild bugs. In the midst of singing birds and rustling winds, there is a tiny pond where you can go boating.
Jogini Falls
The sound of a waterfall is very soothing for any relaxation seekers and Jogini Falls is one of the best attractions in Manali standing at a height of 160 feet tall. The waterfall is stunningly beautiful with lush greenery and tranquility of nature. Visitors can enjoy this beautiful view while sipping tea and coffee with Himachal's best bowl of Maggi noodles. From nearby small restaurants and enjoy the soothing sound mix of birds chirping and waterfalls.
Jogini Falls is also popular as a hiking destination and while hiking you can enjoy the lovely views of orchards, streams, meadows, and the Rohtang peaks. There is completely no fee and it is open to everyone hiking also depends on your choice. However, if you hire a guide then he may charge. This waterfall is located at Vashisht Village.
Himalayan Nyingmapa Buddhist Temple
One Of the top famous tourist attractions in Manali is this ancient Buddhist Monastery with pagoda-style architecture. This is a unique and stunning monument crafted in Tibetan Style that gives a stunning look. The massive, two-storey tall statue of Lord Buddha and amazing paintings on the wall is what attract more attention of the visitors. Visit this temple to experience the peace and joy it exudes.
Without spending a few minutes in meditation to get insight into Buddhist monks' daily lives. A Tour to this Must Visit Places in Manali would be incomplete. The peace and quietness of this monastery is located on Manali's busy Mall road. It appears to be one of the outstanding and unique locations making it completely different from what is outside.
Bhrigu Lake Trek
This stunning lake, located at a high altitude in the upper Kullu region towards the eastern side of Rohtang Pass, is one of the most beautiful lakes. It amazes visitors with its views of Hanuman Tibba and Seven Sisters peaks as they walk through pine and oak forests. The lake is mostly frozen in winter. You will also pass through the beautiful meadows, apple and plum orchards, and beautiful houses made out of woods in the vicinity of the village.
The lake itself, which is reported to change color depending on how you look at it, is the highlight of the hike. You can spend the night in a tent at the Rola Kholi camping area under a sky filled with stars. The 4 days long trek to this beautiful and heavenly lake made all the people flourish with excitement and relaxation after the visit.
Rohtang pass
If you are a biker then, Rohtang Pass is where you should crave to travel. Rohtang Pass, situated between Manali and Kullu, boasts extensive snow cover, attracting tourists, bikers, and adventure enthusiasts.
Rohtang, one of the must visit places in Manali has a high mountain pass at 3978 meters above sea level, is just 51 kilometers from Manali. It's a renowned location in Kullu, belonging to the vast Pir Panjal Range of the Himalayas.