Those who invested in Bitcoin have seen some of the highest highs and lowest lows, however, the current price of Bitcoin is doing exceedingly well, even with a two-day downslide. The value of one bitcoin is worth £35,000. Thanks to its success, many have speculated that the cryptocurrency will grow to an astonishing amount of £55,000 per coin. If this is the case, you might not want to sell up just yet. Although, it's wise to keep in mind, what goes up must come back down, and in the case of Bitcoin, what goes down can still go lower. 
As the popularity of Bitcoin continues to grow, it's good practice to remember that its success was not overnight, in fact, it took Bitcoin over 1,000 days to reach its first all-time high which indicates how unstable and fluctuant the market can be. Many buyers believe the value of bitcoin will appreciate over time which keeps investors interested.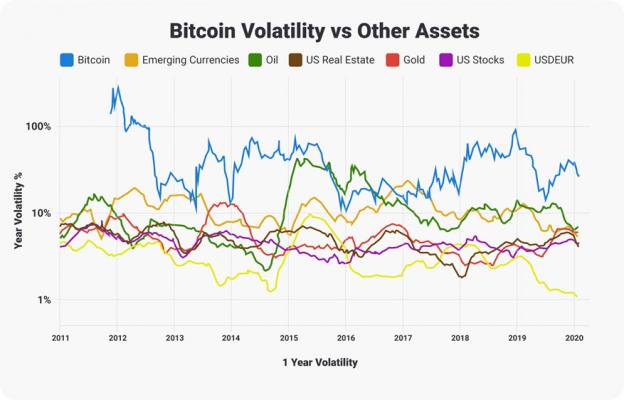 Some Bitcoin analysts believe that the next few months to a year will bring in substantial appreciation for Bitcoin and its investors. So much so that the prediction is that the next four years' predictions are that capitalisation of assets held in crypto will grow five-fold. If this prediction is correct, Bitcoin could be worth an eye-watering amount.
As with all industries, several factors determine the rise of Bitcoin in the years to come. One of the biggest is the fact that more organizational institutions have begun buying into it. This not only shows faith in the crypto industry but also it creates many more opportunities for movement in the markets, and appeal begins to grow. The most significant factor determining the value of a cryptocurrency like Bitcoin is its supply and demand. Many tech companies and social media sites are also turning their attention to cryptocurrencies, making them more appealing to a broader audience range.
Other bodies such as MasterCard are also making cryptocurrency payment easier by launching a payment card that can be used to make payments in both crypto and fiat currencies. This shift towards a new world of spending and investing means more opportunities or Bitcoin to rise from strength to strength. Over time, acquiring, buying, and investing in Bitcoin has become easier. Platforms such as PayPal have made it easier by allowing 350million users to buy and hold Bitcoin using their already existing accounts, making it even more straightforward. 
Crypto banks for the future and De-Fi
Due to the uniqueness of cryptocurrencies, it has faced many challenges in entering the marketing sector. However, crypto firms have taken it upon themselves to seek their own bank charters. Bitcoin and BitPay have filed documents in an appeal to create a national bank. Acquiring crypto banks will change the entire landscape of cryptocurrency, making them more accessible and more importantly making it appealing and easy to use, which will drive more investments as illustrated by the graph below.
Defi, which is short for Decentralised Finance, has been, for some time, concentrated on Ethereum however, as Bitcoin is able to offer unprecedented security with its Blockchain technology which has transformed and changed many industries, there is ample scope for the future of cryptocurrencies having a finance world of their own that will be able to run simultaneously to the finance world of fiat currencies. 
It's hard to think of a world without crypto now that we have it and it's hard to wonder what's in store for it next. However, it is essential to consider that investing in cryptocurrencies should be done with caution and precautions for personal finance should be made before any investment is made.
As we have seen in the past years, the crypto market and the economy as a whole tend to fluctuate. Although fiat does not fluctuate as much as crypto, there are still very low moments that have seen investors lose hundreds of thousands of pounds. 
As technology continues to move at an accelerated pace, and with smartphones like the new Samsung S21 are now developed with blockchain wallet capability, access has been made easier, making it even easier for investors to buy and sell cryptocurrency. 
The question that stands, what will be the next big thing in the finance world fueled by technology? We already live in a world where it is possible to buy supercars with digital money, so what's next?