People of every age group quite eagerly await turning a year older, wiser, or not that varies from person to person. Kids are most excited for their birthdays, so much that they finalise their birthday dress, invites, and birthday cake way before their actual birthday. Above all, they are so particular about their birthday cake with the cake type, flavour, and frosting that it shows quite evidently their love for birthday cake and birthday parties. If you have a kid at home who's birthday is just around the corner but you haven't been able to decide which cake to go with then, here are 2 yummy suggestions for birthday cakes for kids. Each of these two cakes is easy to make for even any amateur baker that you can forget trusting your irresponsible baker who ends up messing up sometimes with the taste and sometimes with the toppings you asked for. Read through this article to know which cakes are these.
Chocolate Marshmallow Cake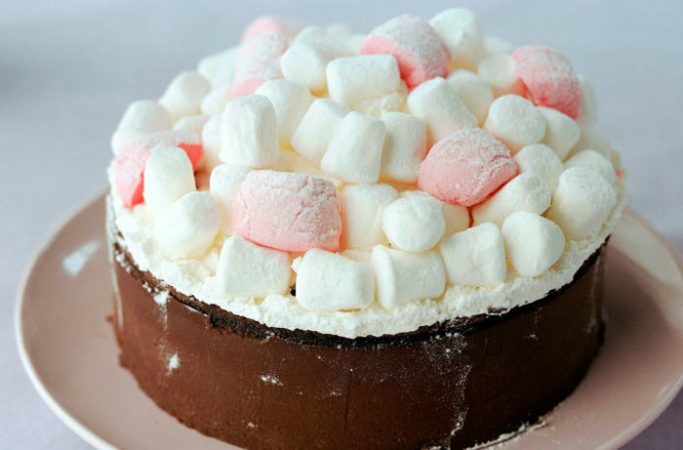 Bake a simple chocolate cake and top it up with some marshmallows, there's no way your kid is gonna deny loving it. Here's how you need to make this scrumptious yet appealing birthday cake at home.
Ingredients for cake:
1 cup of plain flour
1 cup of sugar
2 eggs
½ cup of unsalted butter
2oz unsweetened chocolate
½ teaspoon baking powder
¼ teaspoon baking soda
¼ teaspoon salt
½ cup of unsweetened applesauce
1 package miniature marshmallows (white)
1 teaspoon vanilla extract
Ingredients for glaze:
½ cup of sugar
2 tablespoons butter
2 tablespoons milk
¼ cup of chocolate chips
Instructions:
Start by preheating the oven at 350ºF.
Meanwhile, melt the chocolate in the microwave
Take a large bowl and pour flour, baking soda, baking powder, and salt in it.
Then in another large bowl, beat eggs, sugar, vanilla, and the applesauce together. Pour the melted chocolate into the batter.
Now add the flour mixture into this egg melted chocolate mixture and stir it.
Prepare a baking tray and line up a parchment paper. Pour the batter into the baking tray and let it bake for 20-30 minutes.
Check whether the cake has been baked by pricking a toothpick. Once done, let it cool down.
Now heat a saucepan and pour milk, sugar, butter, and bring it to a boil. Let it boil for a few minutes and remove from heat.
Pour some marshmallows, the chocolate chips into the milk and butter mix. Keep it stirring until the marshmallows melt.
Once the glaze cools down, lay it over the chocolate cake and sprinkle the leftover marshmallows on top of the cake.
Rainbow Cake
May the life of the junior be always filled with colours and happiness. With this noble thought in mind, bake him/her a rainbow coloured birthday cake for kids. Here's how you need to make one!
Ingredients for the cake:
2 packs of vanilla cake mix
1 cup of vegetable oil
2 cups of water
6 eggs
2 packs of food colours – pick blue, red, yellow, green, purple, orange
Ingredients for the frosting:
1 cup butter, softened
1 cup shortening
2 teaspoons vanilla extract
2oz powdered sugar
3 tablespoons milk
Instructions –
Start by preheating the oven at 350ºF and meanwhile grease the baking pan with cooking spray.
Mix cake mix, water, oil, and eggs in a large bowl.
Divide the batter into 6 different bowls. Add one of each food colouring powder to one bowl each.
Pour three of the colours into the pans and refrigerate the rest
Bake for around 20 minutes. Meanwhile, wash the baking pans and grease them again. Bake the remaining coloured cake batter for about 20 minutes.
In an electric mixer, beat butter sugar, vanilla extract, and milk to make the frosting. Beat it all until you achieve the frosting consistency.
Arrange the cake layers by laying one over the other and laying it up with frosting on its top and sides. Your cake is ready to be served. If you wish you can chop some fruits or sprinkle some colourful sprinkles over the cake.
So, these were two easy to make yet appealing birthday cake recipes to pamper your kids with.